ABOUT CASA VIKINGO
Based in the lush tropical rainforest along the beach, inspired by seafaring Vikings and the colors of the Caribbean, Guesthouse Casa Vikingo is a brand new option for visitors to Puerto Viejo. A delightful retreat in lovely jungle surroundings, with easy access to restaurants, adventurous excursions, and that unpolished pearl, Puerto Viejo.
DESCRIPTION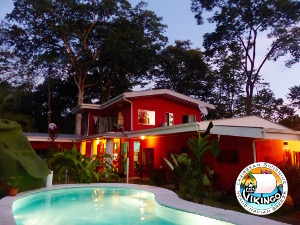 Casa Vikingo is named a guest house because the proprietor lives on the premises and every guest is made to feel like her own, so it houses no more than 14 guests at a time. In Casa Vikingo there is someone close at hand around the clock and you will always feel well taken care of.
The rooms include 2 flats with full kitchen facilities, 2 single rooms and 2 double, all with separate bathroom, showers and hot water, writing desk, cable television and outside private space with dining table. Guests in the rooms have free use of a fully equipped outdoor kitchen, and a washing machine is available for all guests against a small fee. There is free parking and wifi access on the premises. Bikes are available for rent.
Massage can be ordered and enjoyed next to the pool, accompanied by the soft waterfall. The pool also has a little children's unit, sundeck with sun chairs and pool chairs for gatherings and refreshments in the water. If you want to test your strenght or sweat out with a little exercise in the sun we have training equipment to make you a real viking.
The reception will help with questions and recommendations and all guests are welcome to use the tour desk of neighboring Hotel Banana Azul, enjoying from their extensive tour expertise as well as their sunbeds, parasol's and beach bar directly on the Playa Negra beach, 5 minutes walk for Guesthouse Casa Vikingo.