Flats > Trym
Per Night*
* Prices may vary if you are reserving into an upcoming season change.
Inquire
for our weekly prices.
> Click images to enlarge
TRYM is a good solution for a family with 2 children, or group of four. TRYM also complies with the standards for wheelchair users and has the best bathroom / shower of all our habitations. TRYM is an open solution studio-apartment with private kitchen, double bed, and a bunk bed. The kitchen is fully equipped. TRYM is situated next to our other studio-apartment and the two are often used by two families or a large one traveling together.
Apartment Facilities: Double bed, bunk bed (two single beds), WiFi, flat screen television (satellite) desk/ kitchen table, tile/marble floor, wardrobe, separate bathroom with shower it is also possible to sit in (hot & cold water), refrigerator, microwave, water-cooker, toaster, kitchenware, stovetop, towels, linen, soaps.
Outdoor Facilities: Private entrance and patio with table and chairs. Garden and pool view. Racks for towel drying. All guests are welcome to use our training racks.
Max Occupancy: 4 (2 adults and 2 children, or 4 adults)
Why the name "Trym"?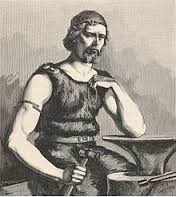 From Norse mythology: Trym was not a god but he was in love with the goddess Freya. In order to conquer Freya he stole the hammer of Tor, and by doing this caused unbalance in the world because the hammer of Tor regulated light and thunder. He said he would give the hammer back if Freya was given him as a bride. Freya however, did not want Trym. To retrieve the hammer Tor disguised himself as Freya in bridal clothes and the wedding was arranged. Trym arrived to finally get his beloved Freya and did not see it was Tor in disguise. During the wedding dinner he was very surprised at the enourmous apetite of his bride and started to get suspicious, but he allowed the hammer to be brought in for the wedding ceremony and once Tor got the hammer in his hand he killed Trym.
Book Now