Single Rooms > Aasa
Per Night*
* Prices may vary if you are reserving into an upcoming season change.
Inquire
for our weekly prices.
> Click images to enlarge
AASA* is our small budget double room, with a special solution accommodating both for a good nights sleep in the high-rised double bed, and for daytime use with a sofa and a little working desk underneath. The room is for two but can also sleep a small family as the sofa may be used as a bed by a child. AASA is located at the back and is more private than the front facing habitations. As a guest in AASA you have access to our outdoor kitchen, with cooking facilities and equipment, as well as a refrigerator to keep your food and drinks cold.
* NOTE: Because of the high raised bed this room is not suitable for people with any movement disabilities
Room Facilities Inside: High-raised double bed with a little staircase, sofa, WiFi, fans, small desk, tile/marble floor, wardrobe/clothes rack, separate bathroom (hot & cold water), towels, linen, soaps.
Room Facilities Outside: Private entrance and patio with table and chairs. All guests are welcome to use our training racks.
Max Occupancy: 2 - 3 (2 adults or 2 adults and a child)
Why the name "Aasa"?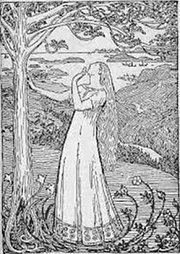 Åsa Haraldsdottir of Agder was a Norwegian Viking age Queen, and it is believed she is the one buried in the famous viking ship Oseberg, which is preserved and can be seen in the Viking Ship Museum in Oslo, Norway.
Åsa was the daughter of King Harald Granraude of Agder and a reputed beauty. King Gudrød the Hunter of Borre in Vestfold proposed marriage to her after the death of his first wife, but her father refused the marriage. Gudrød Veidekonge then killed her father and her brother, abducted her and married her. One year later, she became the mother of Halfdan the Black. One year after this, Åsa took her revenge and had her servant kill her husband. She left the kingdom of Borre to her stepson Olaf Geirstad-Alf and took her own son with her to the kingdom of Agder, her birth country, where she took power. Åsa ruled Agder for twenty years, and after this she left the throne to her son. He also demanded half of his father's kingdom from his halfbrother.
English text: http://en.wikipedia.org/wiki/Åsa_Haraldsdottir_of_Agder
Book Now
See Also
By Category