Double Rooms > Odin
Per Night*
* Prices may vary if you are reserving into an upcoming season change.
Inquire
for our weekly prices.
> Click images to enlarge
ODIN is a good option for a family, or group of 3 people, wanting a division of the sleeping area. ODIN consists of two rooms with a sliding door between. One part has a double bed, the other has a single bed. Each part has their own entrance. ODIN is located at the back and is more private than the front facing habitations. As a guest in ODIN you have access to our outdoor kitchen, right around the corner, with cooking facilities and equipment, as well as a refrigerator to keep your food and drinks cold.
Room Facilities Inside: Double bed, single bed, WiFi, flat screen television (satellite), fans, table, tile/marble floor, wardrobe/clothes rack, separate bathroom (hot & cold water), towels, linen, soaps.
Room Facilities Outside: Private entrance and patio with table and chairs. All guests are welcome to use our training racks.
Max Occupancy: 3 - 4 (2 adults and 2 small children, or 3 adults)
Why the name "Odin"?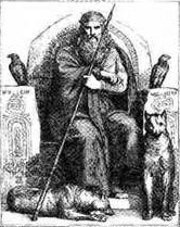 In the Norse pantheon, Asgard was the home of the gods, and it was the place where one could find Odin, the supreme deity of them all. Odin was the god of kings and the mentor of young heroes, to whom he often gave magical gifts.
Book Now
See Also
By Category