ABOUT LOCATION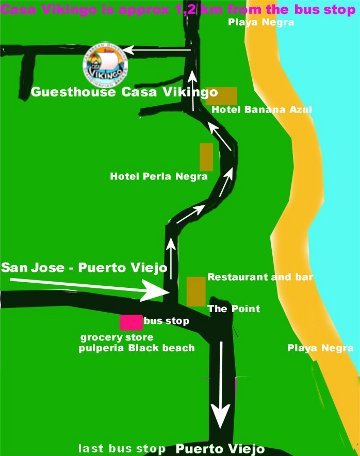 Coming from San Jose/Limón:
1 km from Puerto Viejo center, take to the left, from the main road just before restaurant The Point.
Follow the Playa Negra road 1 km (0.6 mi) to Hotel Banana Azul, continue straight 200 m (0.1 mi) and turn left.
Casa Vikingo is 100 m (200 yds) up to your left, across the road from Casa Kenia.
The Costa Rica Caribbean coast is four hours drive from San José and one hour from Limon airport.
There are buses leaving four times a day from San José, and if you would like to rent a car we know where to get you the best deal in all of San José.
International travelers will most often be arriving at the San Jose International airport which is a four hour drive from the Caribbean coast of Costa Rica. Buses leave 4-5 times a day to Puerto Viejo. If you wish to rent a car we can help. There are also flights directly from San José to Limón:
Limon Flights (Nature Air)
Daily flights to/from Limon, Costa Rica
Real travel time
driving: 4 hours (distance: 200 kilometers) / flying: 30 minutes
IMPORTANT NOTE: Puerto Viejo does not have an airport. These flights will take you to Limón, about an hour northwest of Puerto Viejo. From there you will need to arrange your transportation by land.
from
stops
departure
arrival
effective
San Jose to Limon
0
5:50 am
6:25 am
Daily
San Jose to Limon
0
3:45 pm
4:25 pm
Friday to Sunday
from
stops
departure
arrival
effective
Limon to San Jose
1
6:35 am
7:35 am
Daily
Limon to San Jose
0
4:35 pm
5:10 pm
Friday to Sunday
Source:
Nature Air