Flats > Frøya
Per Night*
* Prices may vary if you are reserving into an upcoming season change.
Inquire
for our weekly prices.
> Click images to enlarge
FRØYA is our most popular family habitation. It is an open solution studio-apartment with private kitchen, double bed, and a bunk bed much appreciated by the children. The kitchen is fully equipped. FRØYA is situated next to our other studio-apartment and the two are often used by two families or a large one traveling together.
Apartment Facilities: Double bed, bunk bed, WiFi, flat screen television (satellite) desk/ kitchen table, tile/marble floor, wardrobe, separate bathroom (hot & cold water), refrigerator, microwave, water-cooker, toaster, kitchenware, stovetop, towels, linen, soaps.
Outdoor Facilities: Private entrance and patio with table and chairs. Garden and pool view. Racks for towel drying. All guests are welcome to use our training racks.
Max Occupancy: 4 - 5 (2 adults and 3 children of which 2 have to share one bed, or 4 adults)
Apartment Size: 28 m²
Why the name "Frøya"?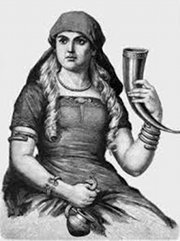 Frøya was a mystic, blue-eyed and beautiful Norse goddess of love and fertility. People would pray to her for help in matters of love. She was also goddess of war and wealth but considered good and merciful. Her attributes include a famous necklace named Brisingamen, acquired from the dwarves by sleeping with them, a cloak with the property of allowing her to transform into a bird, and a chariot driven by large cats. Frøya lived in Folkvangr and, she received half of those killed in battle. Frøya was the most popular of the goddesses and the one the people in Scandinavia prayed to for the longest time.
Source: Åsgård Norden as, Scandianvian heritage
Book Now